Florida 2018 - Day 2
Joel's Journal - February 5, 2018 - Volume 3 - Entry #36
Poolside and Early Explorations
When I opened my eyes, the sun pouring in through the white blinds was a sight to behold. The bed across the room, still unoccupied as it awaited the arrival of my older brother Kyle and his girlfriend Kelly, was bisected by long white lines of welcoming light.
Like a snake, I moved across the short distance, between the two beds and pulled myself onto the other mattress without even leaving the comfort of the sheets.
Pulling one hand from the cocoon of blankets, I eased the string down and let in the warmth of the Florida morning. The sky was blue, and only a few fluffy white clouds called the sky home at that point. However, perhaps the most welcoming site was the lush plant life. Long green grasses surrounding the walkway out front waved in the wind and palm trees with long trunks stretching high above the condo, long palm shoots exploding against the blue sky like a firework.
Welcome to Florida.
It was all a lovely sight compared to the drab greyness and bare trees of Canadian winter.
I slithered back to my own bed, leaving the blinds cracked, and pushed back into the pillow, soaking in the vacation bliss, fuelled by thoughts of a day with little responsibility.
When I did get myself out of bed, many of the others were already milling about in the kitchen, getting breakfast made and coffee brewed.
I grabbed myself a bowl of cereal, a hot cup of coffee and moved over to the large kitchen table with its bench seating against the wall to eat. I read through some emails (force of habit) and checked the news back home to ensure I wasn't missing anything apocalyptic. I wasn't.
After that I simply moved with the flow of the morning.
With nothing else to do, I had a second cup of coffee, took a shower, and then opened my laptop to do a bit of work.
I admit, I allowed a little bit of Oshawa to stay on my mind on this vacation. With a couple of meetings happening today, and a couple stories that I've been following coming forward, I wanted to make sure I didn't miss any big developments. So, I plugged in my headphones to watch the webstream as the rest of the group headed for the pool. I promised I'd meet them down there when it all wrapped up.
My notes turned out to be quite lengthy from the meetings, and I know I'll be able to get a couple of stories written up for when I come back, lessening the work load upon my return.
I subconsciously patted myself on the back for thinking ahead, then grabbed my book and headed out into the warmth.
The humidity, which usually hits like a slap with a wet towel during the Canadian summer, welcomed me like a warm hug as I stepped outside.
It was my first time stepping outside into the sunshine that trip and I took a minute to let it wash over my face, closing my eyes and basking it in.
When I opened them, I wasn't quite sure which direction I needed to go.
Straight ahead, a road twisted and turned around a bend, lined on one side by a fence of trees and on the other by a row of condo houses.
To my right, another road drifted off around the bend, sided by more condos and a small Par 3.
You see, the entire resort is rows of condos, wrapped in among three different golf courses like some kind of long, twisting labyrinth of green grass and sun-baked brick.
Thinking back to the drive from the day before, I remembered my Dad bumping the car straight into the small lot in front of our building. So, I figured that was the best direction to head as we'd passed the pool area on our way in.
When the road came to a fork, I let my feet carry me in the direction I thought was right.
It's weird. As unfamiliar and new as the place was, there is a small part of me that kind of knew where to go. I'd been to the condo before, but it was years ago when I was much younger and don't remember much from those trips, especially not the turns among the condos to get to the pool.
However, with that said, I found the area without a hitch, grabbed a lounger near everyone else and opened my book to do some serious reading as the sun baked down.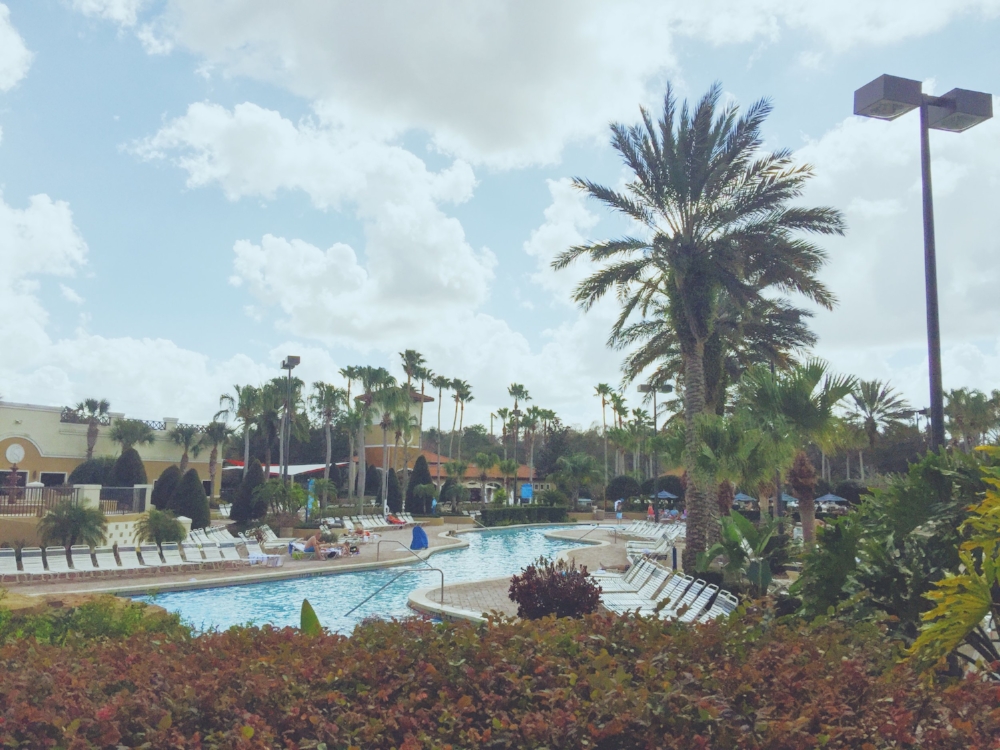 "It was my first time stepping outside into the sunshine that trip and I took a minute to let it wash over my face, closing my eyes and basking it in."
I'm not much for swimming, notable in the fact that I walked all the way to the pool without really thinking about the fact that I was wearing jean shorts and not a bathing suit.
No biggie. I was perfectly content with my book and the sunshine. I even learned that the wifi in the condo, was actually resort-wide wifi and I was able to text M right from the pool. Perfect.
I didn't think it could get any better than that, until my dad noted the cooler beside us had cold beer in it.
Perfection.
The afternoon was spent at the card table.
My family has always been big on card games. Poker. Solo. Cribbage. You name it, we play it.
This trip it appears that cribbage is going to be the dominant game as both my brother and my dad brought along a board. In fact, I almost brought along my own until I realized that more than likely somebody else would bring one along.
My Dad, Liam and I posted up on the patio with beer, cigars and the board and spent the afternoon picking up where we left off the night before.
We were able to get a few rounds in before we started cooking dinner. It was a pasta meal with my dad and I tag teaming the chopping and cooking. Without oil, and not much salt and pepper in the condo, the two of us had to improvise, but I think all in all we pulled off some pretty eats, all things considered.
I used to love watching my dad cook when I lived at home, and it's one of the skills I'm most thankful to have learned from him. It's also great to be able to stand beside him in the kitchen and cook away, especially if there's some good tunes rockin in the background.
As things approached the end point, Kyle and Kelly arrived and hugs were given all around.
As darkness fell outside, the group had split in two, fuelled by some tensions at the dinner table.
A large ground of us stayed inside and played a round of Settlers of Catan, a new game for me, but fun nonetheless.
By the end of it though, my bed was beckoning me, and after crawling between the sheets, it wasn't long before I drifted off.
Thanks for reading! See you tomorrow.
J.J.W.